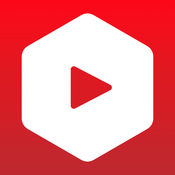 Overview
ProTube is the ultimate, fully featured YouTube app. With its highly polished design, ProTube offers ad-free video with selectable playback quality, audio-only playback, background playback and adjustable playback speed. You can even manage videos in playlists without signing in with a YouTube account!
Main Features:
Video playback in any quality, from 144p up to 4k Ultra HD.
60fps video playback.
No advertisements or annoying pop ups!
Audio-only playback in high quality with low bandwidth usage.
You can sign in with your YouTube account to view and manage your uploads, playlists and subscriptions.
Watch videos that are blocked on mobile devices.
Background playback allows audio to keep playing while using other apps or while the screen is locked.
Discover videos, playlists and channels with the powerful search engine.
Rate and share videos and add them to playlists even without a YouTube account.
Play entire playlists with shuffle and repeat options.
Adjust the playback speed, to view certain moments in slow motion or fast forward.
View top comments, recent comments, ratings and post your own comments & replies.
Mirror videos to your TV with Apple TV or Chromecast.
Customize your experience by choosing your preferred homepage, default playback quality, autoplay setting and more.
Share videos, playlists and channels with your friends.
Video and audio playback can be minimized, allowing to browse inside the app while playback continues.
Split screen and picture in picture support.
3D touch integration.
Full Voice Over support.
Much more!
Last updated: September 05, 2017
Version: 2.5.9
How to Install ProTube with Cydia Impactor
Please note that Cydia Impactor is currently not working and apps won't install. Use AltStore instead.
Download the ProTube IPA file onto your computer.
Download Cydia Impactor from here.
Connect your device to your computer using a USB cable.
Open Cydia Impactor.
Drag and drop the IPA file downloaded in Step 1 onto Cydia Impactor
Cydia Impactor will ask for your Apple ID and password, which is verified with Apple only and is used to sign the IPA file. If you're not comfortable providing it, then create an alternative Apple ID and use that instead.
After the app is installed, go to Settings -> General -> Profiles (or "Device Management" / "Profiles & Device Management"). Find the profile with your Apple ID and open it.
Tap on the Trust button.
Now open the app and enjoy it.