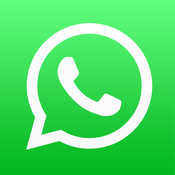 WhatsApp Watusi 3
v23.9.77 (T1.1.58)
WhatsApp Watusi brings a bunch of useful new features to WhatsApp such as:
Disable read receipts
Freeze your last seen status
Disable delivery and typing indicators
Select unlimited number of photos to send
Password-protect the app
Call recorder
Lock chats
Enables send button while offline
Customization of the app's user interface
For full list of features, visit the developer's page.
Information
How to Install WhatsApp Watusi 3 with AltStore
Install AltStore on your iOS device. To learn how, read this guide.
Download the latest WhatsApp Watusi 3 IPA file.
Open the AltStore app on your device and go to the "My Apps" tab.
Tap on the plus "+" icon in the top, then browse and select the WhatsApp Watusi 3 .ipa file that you downloaded.
If it's your first time using AltStore, you will be asked to enter your Apple ID and password. AltStore requires it for signing the app so it can be installed. We recommend you use a burner account.
The app will begin to install and once completed, you can open it from the My Apps tab or from your Home screen.
With this method, you have to re-sign the app every 7 days. To do so, simply go to the My Apps tab in AltStore, then tap the "X days" button next to the app to begin the re-sign process. Make sure to re-sign the app before it expires, otherwise, you have to repeat the above process all over again.
How to Install WhatsApp Watusi 3 with Sideloadly
Download the latest version of Sideloadly for Windows or macOS and install it on your PC.
Download the WhatsApp Watusi 3 IPA file from this page and save it to your computer.
Connect your iOS device to your computer using a USB cable.
Open the Sideloadly app on your PC.
You may be prompted to install the Mail Plug-in. Click the "Yes" button to continue.
Enter your Apple ID email under the "Apple account" field.
Drag and drop the WhatsApp Watusi 3 .ipa file into the IPA field shown on the left side of the interface. The field is represented by an IPA image.
Click the "Start" button to begin the sideloading and installing the IPA.
When prompted, enter your Apple ID password. The tool uses your Apple ID to sideload the app. We recommend you use a burner account.
Sideloadly will begin installing WhatsApp Watusi 3 on your iOS device.
Once the app is installed, don't open it yet. You first need to verify your Apple ID profile if it's your first time using Sideloadly. To do it, go to Settings > General > Device Management. Tap on your Apple ID and press the Trust button. Tap on Trust again from the popup alert.
Now go to the Home screen to open the installed app.
Description
WhatsApp is one of the leading message apps for iOS. Even though it is owned by Facebook which has received much criticism recently, the app's user base has been growing steadily month over month.
WhatsApp allows users to easily send and receive messages, photos, videos, and documents as well as do voice and video calls over the internet.
The app is very slow when it comes to releasing new features and that is because the company places more emphasis on providing a satisfactory user experience rather than releasing features that could degrade the experience and introduce bugs.
That said, there are third-party tweaks for WhatsApp that add new features and enhancements to the app. One such app is called WhatsApp Watusi.
What is WhatsApp Watusi?
WhatsApp Watusi is a modded version of WhatsApp for iOS that brings many new features to the messaging app such as disabling delivery tickmarks, dark mode, saving statuses, customizing the interface, and much more. It is installed as a stand-alone app and replaces the original WhatsApp app.
You can download the Watusi IPA on your iPhone from this article and install it to enjoy all the features that it provides. The installation guide is provided later in this article.
WhatsApp Watusi Features
Here are the main features offered by the Watusi for WhatsApp tweak:
Disable delivery receipts, read receipts, last seen status, and typing indicator
Download statuses to your Camera Roll
Block incoming calls from WhatsApp
Password protect the app using a passcode or Touch ID
Password protect a specific chat with a passcode or Touch ID
Pin as many chats as you want
View all groups on a single page
Disable "Forwarded" indicator
Enable dark mode
Customize the interface background, text color, and much more
Schedule messages
Set auto-replies
Use a custom ringtone
Hide chats
Keep the deleted messages in chats
Get confirmation before calling
How to install WhatsApp Watusi using Cydia on a Jailbroken iPhone
For this method to work, your iPhone must be jailbroken and have the Cydia app on it. You can jailbreak using unc0ver if your device is compatible. Here's how to install WhatsApp Watusi with Cydia.
1. Jailbreak your iPhone using a jailbreak app that is compatible with your iOS version, such as the unc0ver jailbreak.
2. Open the Cydia app and tap the Sources tab.
3. Press Edit, then select Add.
4. Enter the following repo URL: https://apt.fouadraheb.com
5. Press Add Source and wait for Cydia to load all the packages from the newly added repo.
6. Now search for WhatsApp Watusi and open it. Then press the Install button to begin installing the tweak on your device.
7. Once installed, open WhatsApp to access all of Watusi's features.
How to install WhatsApp Watusi without a computer
To install the Watusi app on your iPhone without using a PC, you can use third-party app stores. Here's a list of some of the best app stores for iOS:
AppValley
Zeus
TuTu App
Panda Helper
TuTu Box
Topstore
CokerNutX
Signulous
The way it works is that you have to install any of these app stores on your iPhone, then search for Watusi from the app store and install it right away. The only downside to this method is that the apps installed from these stores stop functioning very frequently because Apple keeps on revoking their signing certificates.
Another way to install WhatsApp Watusi without a computer is by using the Esign app.
FAQ
1. Is WhatsApp Watusi safe to use?
Yes, Watusi is a fairly safe mod for WhatsApp and is a very popular package in the jailbreak community. Although it is not malicious, you should be careful so as not to get banned by WhatsApp as the tweak violates the app's terms of use.
2. What is the Cydia repo for WhatsApp Watusi?
The Cydia source for the WhatsApp Watusi tweak is https://apt.fouadraheb.com.
3. What is the best alternative to WhatsApp Watusi?
The top alternative to WhatsApp Watusi is WhatsApp++. It is a very popular tweak for WhatsApp that adds essential features to the app, such as hiding your online status, sharing music, adding the ability to upload profile pictures in full, and having full control over the app's interface design.